A note on the occasion of inauguration of Phase 3 of Line 1 of Tabriz Urban and Suburban Railway
---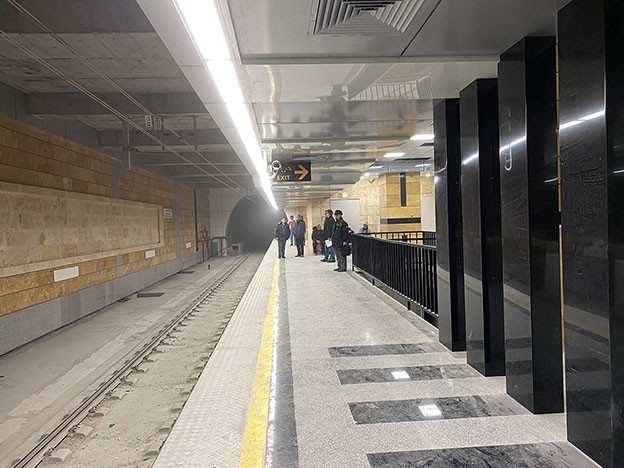 On 13th of February 2020 in the midst of loud social and political events a special event took place in the city of Tabriz: Line 1 of Tabriz Urban and Suburban Railway was inaugurated, meaning that it became open to the public use.
This Metro line which its execution works was initiated back in the year 2002 covers now 17.2 Kilometers and includes 18 stations connection El-goli Square in South-East of Tabriz to Laleh Street located at South West of the city.  While some parts of this line are over ground other parts have been constructed underground using different methods of tunnel construction, namely with the use Tunnel Boring Machine (2 TBMs) as well as New Austrian Tunneling Method (NATM).
GUENO Consulting Engineers was involved in this project form the beginning and its services include:
Supervision of execution activities of deep tunnels with approximately 16 kilometers of length with 2 TMBs,
Design of 10 stations,
Supervision on execution of 6 stations.
Quite special efforts were made to expedite activities in order to make possible inauguration on the planned date.  Such efforts included:
Full execution and completion of the structure of the Kiosk at the Southern Entrance and the Connection Gallery with 75 meters length in Imam Hossein Station (Station No, 16) in less than 1 month,
Completion of finishing works and installation of Mechanical & Electrical utilities of the Ticket Hall salon at the above-mentioned station in less than 10 days,
Completion of finishing works and installation of the electrical utilities of the Kiosk at the Southern Entrance in less than 24 hours.
With Gueno's decisive role in inauguration of Phase 3 of Line 1 of Tabriz Metro which indicated a shining record that was undoubtedly made possible thanks to cooperation of all other project stakeholders and specially the unreserved support of the Client, an unforgettable memory was registered on the night of inauguration of such important project